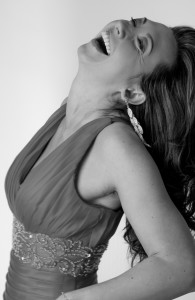 Foto: Tom Benz
In 2021 Anna Princeva will debut at the Covent Garden Opera London as Mimi in Puccini's La Bohème, and at the Hamburg State Opera as Alice Ford in Verdi's Falstaff.
In summer 2020 she gives an arias evening at the Bregenz Festival,
conducted by Enrique Mazzola. Then in autumn she will appear as Donna Anna
in Don Giovanni at the Graz Opera.
In 2019/20 the singer made her debut at the Opera di Roma as Hélène in
Vêpres siciliennes, sang at the Deutsche Oper am Rhein Freia, Violetta and
Rosalinde, this and Nedda in Leonvavallos I pagliacci then also at the
Bonn Opera.
Anna Princeva studied piano, singing and conducting at the conservatory
of her hometown – St. Petersburg before moving to Italy to continue
her vocal studies, with among others Francisco Araiza, Lela
Cuberli and Grace Bumbry.
The young singer started her career at the Tiroler Festspiele in Erl with roles such as Leonora (Il trovatore), Mathilde (Guglielmo Tell), Donna Anna (Don Giovanni) and Fiordiligi (Cosi fan tutte).
With this role she also appeared at the Basel Opera, directed by Calixto Bieito.
Anna Princeva has been singing leading roles at the Bonn Opera since 2014
such as Contessa in Figaro, Verdi's Giovanna d ́Arco, Hélène in its
Jerusalem, Lucretia in its Due Foscari, Hélène in its Vêpres
siciliennes, Elsa in Lohengrin and Teresa in Berlioz ́ Benvenuto Cellini.
She also sang Teresa at the State Theater in Nuremberg in 2016.
In summer 2016, the singer was a guest at the Heidenheim Festival as
Leonora in Verdi's Oberto under the musical direction of Marcus Bosch.
In 2016/17 besides her duties at the Bonn Opera there was another
new production, Lustige Weiber von Windsor by Nicolai at the
Deutsche Oper am Rhein and Peter Konwitschnys Traviata
at the Graz Opera. She also sang Violetta in the same staging
at the Nuremberg State Theater.
In 2017 Anna made her debut at the Sydney Opera as Nedda in the
new production of Pagliacci.
In 2018/19 there was Contessa and Nedda at the Deutsche Oper am
Rhein and Musetta in Sydney.
In 2019 she was nominated for the German Award "Faust" for her Elsa in "Lohengrin